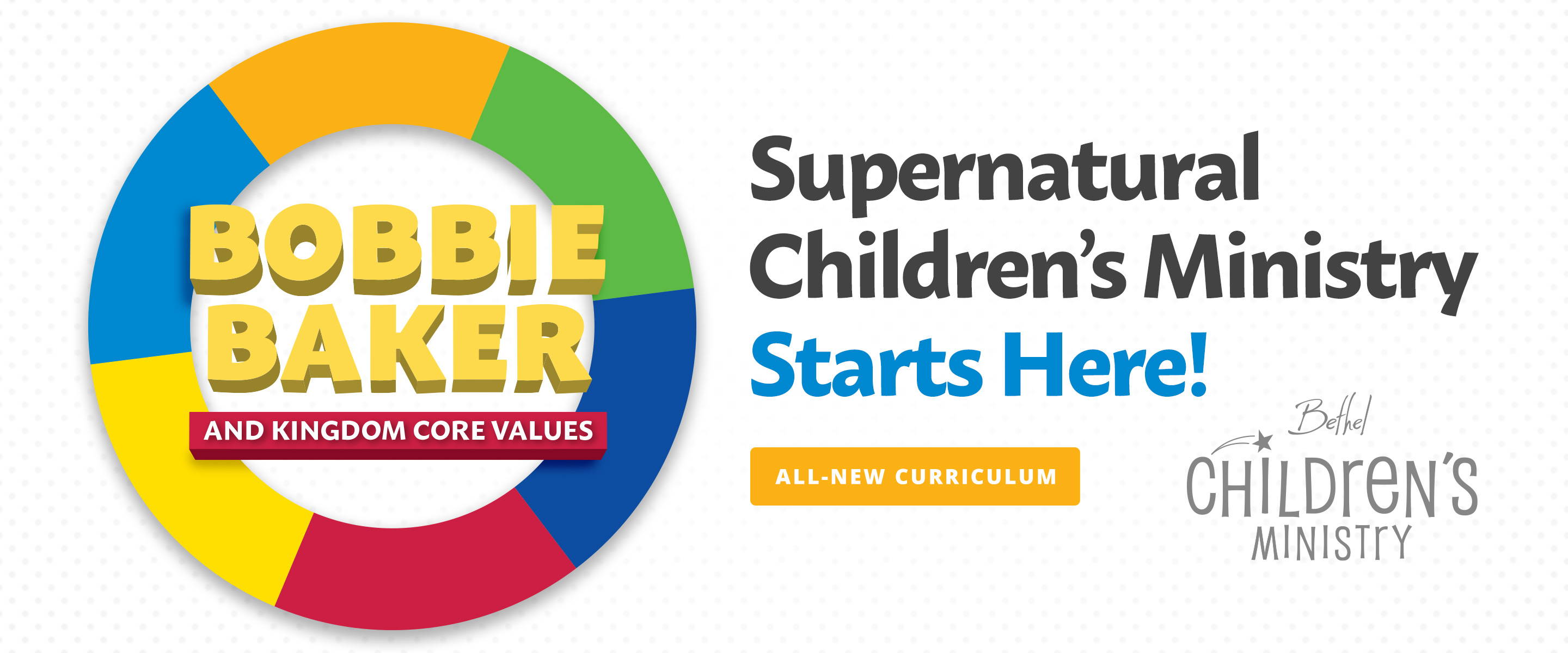 The Bobbie Baker and Kingdom Core Values curriculum offers a holistic solution for a supernatural children's ministry that is grounded in core, biblical truth.
Teach Kids to Hear God's Voice for Themselves
In this fourteen-week adventure, children ages 5-10 will encounter truths that Bobbie Baker shares from his recipe book – the Bible. Each week, kids will explore a Biblical principle with Bobbie, discovering practical values like God's presence, healing, and more. Along the way, they will discover the Holy Spirit, grow in spiritual gifts, and get to know Jesus on a deeper level.
Bobbie Baker is a klutzy, goofy, messy baker, with a beautiful heart. His mission is to reflect Jesus to the children in your classroom!
Grounded in Biblical Truth
Each week, Bobbie introduces one new Kingdom Core Value as a "secret ingredient" to his recipes. Through the skits and teaching times, your class will learn the foundational values of God's Kingdom – the core beliefs that help us to live like Children of the King!
God is Good: Help kids discover how good God really is.
Salvation Creates Joyful Identity: Salvation is a life full of joy.
Responsive to Grace: Grace can redeem anything.
Focused on His Presence: The Holy Spirit is with us every day.
Creating Healthy Family: Help kids see their families through God's eyes.
God's Word Transforms: Impart a passion for God's word from the Holy Spirit.
God is Still Speaking: Hearing God is easy!
Jesus Empowers Supernatural Ministry: Kids can move in the Supernatural.
His Kingdom is Advancing: Kids can advance the Kingdom through the Gospel.
Free and Responsible: Live pure and holy in the freedom Jesus purchased.
Honor Affirms Value: Teach kids a practical way to honor others.
Generous Like My Father: God is generous! Be like him!
Hope in a Glorious Church: God has great plans in store for you and the church!
The Bobbie Baker curriculum will help you foster a culture of supernatural ministry in your classroom! Here's just a few testimonies from classes who have used Bobbie Baker and Kingdom Core Values…
Scripture and Prophecy
"Many of the children gained a new value for Scripture and even felt more comfortable memorizing and applying Scripture. One of our kids even began using his Bible to speak out prophetic words, calling out what God was doing in the class and at home!"
Words of Knowledge and Healing
"A child received a word of knowledge for another child in the room. The class prayed for the her, and she got healed! When she found out that one of the leaders had the same problem, she prayed for him, and the leader was healed too!"
Bethel Children's Pastor, Amy Gagnon introduces you to the Bobbie Baker and Kingdom Core Values curriculum.
Help Kids Connect with Father God!
Each lesson contains fun and thought-provoking activities: skits with Bobbie Baker, weekly Bible memorization games, step-by-step prophetic activations, and pre-planned small-to-large group games.
The concepts unpacked in each lesson are easy to understand and will help to build lasting connections between children and the Holy Spirit! This curriculum is your key to building a culture that emphasizes intimacy with Father God and supernatural ministry through fun and simple activities!
Building authentic relationships is foundational to this curriculum. Each lesson plan helps you create an environment where kids can build genuine connections with leaders and peers.
Structured playtime makes class sessions consistently fun and engaging. Themed games re-enforce the day's Kingdom Core Value, helping kids process and retain each lesson.
Bible memorization games make engaging with Scripture fun for kids. Plus, rewarding weekly progress empowers and encourages them to continue hiding God's Word in their heart!
Each lesson imparts the day's Kingdom Core Value in simple, memorable ways. Every lesson has been written and outlined with you in mind – making prep time easy and meaningful. The Video Upgrade offers additional training and tips!
Each week, Bobbie Baker uses a new Kingdom Core Value in one of his recipes. Whether meeting him through animated videos, or live skits, your kids will fall in love with Bobbie Baker and the Truth he imparts!
This is a time for kids to connect directly with the Holy Spirit to activate the day's teaching in their own lives. Every activation time includes specific instructions for prayer, personal encounter, or prophetic acts.
The Bobbie Baker and Kingdom Core Values Curriculum is made up of two components: The Teacher's Manual and the Video Upgrades. The Teacher's Manual guides you through all lesson plans, games, teaching sessions, and skits. The Video Upgrades are highly recommended additions to the core curriculum, providing animated skits, teacher training, and prep tips for you and your staff!
The teacher's manual is essential for the curriculum. It contains all lesson plans, teaching outlines, game rules, skit scripts, and more.

Introduce kids to Bobbie in a way they'll never forget! This lovable, animated Bobbie brings silly antics and serious core values to every lesson. These animated skits are a fun, easy upgrade to the scripts provided in the Teacher's manual.
Teacher's Training Videos
Make lesson planning easy and meaningful with these short prep videos. Bethel Children's pastor, Amy Gagnon walks you through each lesson. These short videos will equip you and your staff with all you'll need to run a successful Bobbie Baker program.

There is No Junior Holy Spirit!
Transform your Sunday School Classroom into a training ground for the Kingdom! Bobbie Baker and Kingdom Core Values is your one-stop resource for helping kids access their full inheritance as children of the King!